Maui Market Report for February 2023
Maui's overall real estate market held previous levels as slower sales activity continued in February.  While many speculate as to the direction of the housing market, one thing remains for certain – a lack of properties for sale continues to keep median prices elevated even though there is less buyer competition, especially at entry-level prices. With mortgage interest rates forecasted to bounce between 6% – 7% in the foreseeable future, buyers and sellers find themselves at a stalemate as they balance housing affordability and the cost of switching properties.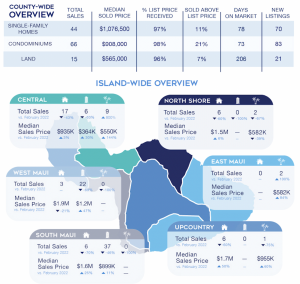 SINGLE-FAMILY HOME TRANSACTIONS
February 2023 vs. Percent change over last year:
Across Maui, home sales are down 50% year over year as median sales prices remain just over $1 million. In total there were only 44 single-family home sales in February, the lowest since February 2009. Without a sudden infux of new properties for sale, median prices are likely to remain fat, especially as demand continues to outweigh supply; indicated by the three months of remaining inventory for sale [sellers' market = 0-6 months] and the healthy pace in which properties sell.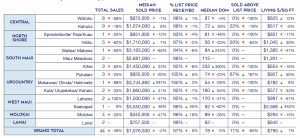 CONDOMINIUM TRANSACTIONS
February 2023 vs. Percent change over last year:
Maui's condo market set a record for median sales price last month reaching $908,000 beating out the high of $856K set last November. In total, nearly half of all condo sales were above $1M+ in February. While a record is newsworthy, especially in today's market, it is important to remember that with less sales activity, fluctuations in the data can be more dramatic.

LUXURY TRANSACTIONS For February 2023
For single-family home sales over $2.5M and condo sales over $1.5M